Tennis courts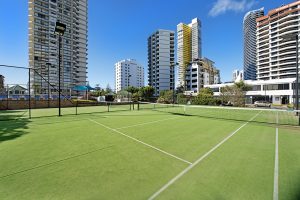 Two fully  refurbished tennis courts with AstroTurf surface including new tennis nets and new mesh fencing.
Booking for tennis courts at Reception; tennis racquets and tennis balls available for $10 fee per stay
Tennis court bookings available from 8am – 8pm daily
West Haven (Heated West Pool /BBQ Complex)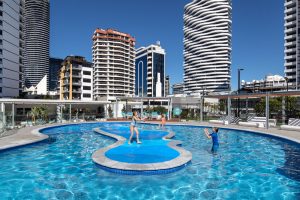 This beautifully designed area has been recently fully renovated with 2 side by side BBQ's with a separate BBQ area facing the tennis courts; ready for a challenging play off and BBQ to follow. The El Fresco area offers a combination of individual dining tables and chairs, bench seating area with street style occasional tables and for your added convenience there are sinks and ice wells available. BBQs' can be booked from 8am to 8pm daily.
The amazing heated west pool incorporates new Life Floor Tiles providing a colourful and safe texture for the little ones within the wading area as well as the colourful design of the soft texture tiles continuing onto the pool island, providing a 'fun splash pad' for children and adults to enjoy. West pool length 18 meters X 15 meters; depth .6 Kiddies wading section up to 1.4 meters deep. Double sun lounges and tables and chairs available for your added relaxation.
West Pool open 7am to 10pm daily
East Pool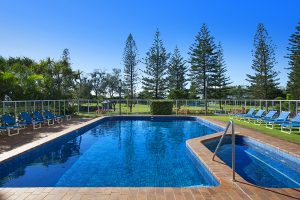 Heated East pool 12meters x 6.5 meters in length, depth 1.2 meters. This relaxing outdoor pool area equipped with sun lounges also has a separate spa and overlooks the park across the street.  
Indoor Pool Complex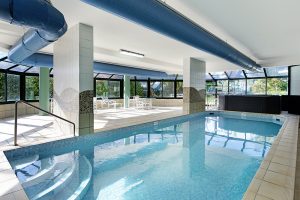 Our heater indoor pool and spa is very popular with adults and children all year around. Heated indoor pool is  3.3 meters X 9 meters in length, depth 1.15 meters. There is also steam room within the indoor complex. Sun lounges and chairs available for you to relax and watch over the children.
GYMNASIUM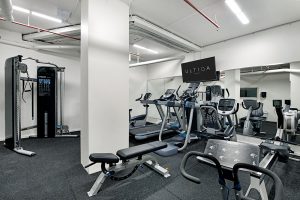 The gym is located in the basement car park area and is well equipped with a variety of equipment.  Television available and air conditioned for your comfort.
BASEMENT CAR PARK
 Undercover car park is provided with one car space allocation per apartment.  There is a convenient car park available for additional cars at Jubilee Avenue Car Park; just a block away.  There is a small fee for parking but this car park is most convenient and better than parking on the street.  If street parking is preferred make sure to park outside Council Metered areas.  Staff will advise best areas for street parking.